Facts and beyond Malik Ishaq – by Dr Abbas Zaidi
I entered home and sat with my daughter who was watching the afternoon Al-Jazeera news bulletin. "You know Pakistan's top terrorist has been killed!" she said in excitement.
In my mind, a few faces flashed through: Nawaz Sharif, Shahbaz Sharif, Rana Sanaullah, Chaudhry Nisar, and General Hameed Gul. But the very next moment I dismissed the thought because these characters are friends and facilitators of terrorists, and do not carry out the physical act of terrorism.
"They showed his photo. He's so scary," she continued, "If he goes to Hollywood, they will cast him in every horror movie. His face looks so evil!"
I thought about Mullah Ahmed Ludhianvi, the head of the banned Ahle Sunnat Wal Jamaat (ASWJ), the political face of Lashkar-e-Jhangvi and a political ally of the Sharif Brothers. In the 2012 elections, the ASWJ was an ally of the Sharif Brothers' PML-N. Below is the photo in which Nawaz Sharif and Islamofascists are praying for electoral victory. Mullah Ludhianvi can be seen praying in the photo: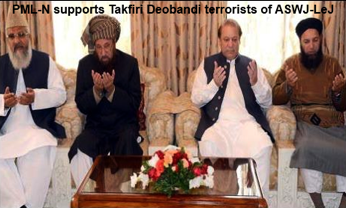 Mullah Ludhianvi is a close friend of Rana Sanaullah, Punjab's law minister, first-cousin of Chief Justice Iftikhar Chaudhry, and the Sharif Brother's right-hand man. Below Mullah Ludhianvi and Rana Sanaullah can be seen campaigning together at a political rally: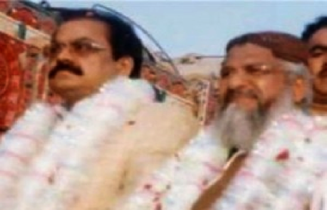 I logged on and checked out Pakistani newspapers. The terrorist killed was none other than Malik Ishaq, the second-in-command of the ASWJ, and a PML-N ally (more below):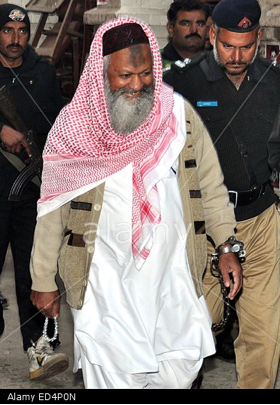 Malik Ishaq was a notorious Shia killer. Some of the facts about him are:
1. He killed over 100 Shia scholars, doctors, lawyers, and businessmen with his own hands. He never denied his campaign of assassination of the Shias. He proudly owned up to killing the Shias with his own hands.
2. Apart from killing with his own hands, he planned and oversaw assassination campaigns of thousands of Shias, Christians, Ahmadis, and Sunni Sufis / Barelvis.
3. No judge could convict him for fear of reprisals. Once he read a judge the names of his children and their schools. The judge began to tremble in fear and did not hear his case. Another judge respectfully offered him tea and biscuits in his office.
4. When Shahbaz Sharif became Punjab's chief minister in 2008, Malik Ishaq was in jail for killing scores of innocent people. After taking over, Shahbaz Sharif provided special facilities to him. He also sanctioned a fat stipend for his family. On behalf of Shahbaz Sharif, Rana Sanaullah justified the stipend by claiming that the stipend had been awarded at a court's direction. It was a lie, as no such court direction existed:
http://tribune.com.pk/story/210827/lejs-malik-received-monthly-stipend-from-punjab-govt/
One of the landmark decisions of the Shahbaz Sharif government was the release of Malik Ishaq. Deobandi hate cleric Tahir Ashrafi, member of the Council of Islamic Ideology, was there to receive him outside the jail: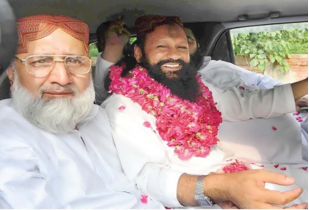 In fact, Tahir Ashrafi campaigned hard for the release of Malik Ishaq. In his own words:
"'I met Ishaq several times in prison,"' Ashrafi said, emphasizing that Ishaq assured him that he wanted to contribute to peace. "'If someone wants to get back to normal life, yes, why not, we do help him,"' said Ashrafi. "'These are our own men."'
http://www.dawn.com/news/669558/in-pakistan-a-militant-deal-sours
Tahir Ashrafi accompanied Malik Ishaq and his boss Mullah Ludhianvi to many political rallies: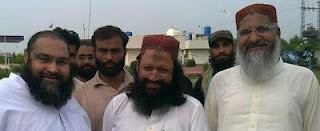 Later Shahbaz Sharif provided him with VIP security, so that he could be well protected wherever he went pouring out venom against the Shias and calling upon the people to kill them. Below is the video showing the VIP protocol accorded him:
Malik Ishaq was also provided opportunities by the Sharif government to sharpen his shooting skills. Below the video shows him training shooting with the Punjabi Police Elite Force:
Malik Ishaq was a toast of the ISI-created Defense of Pakistan Council comprised of the likes of Jamaat-e-Islami and Lashkar-e-Tayyaba: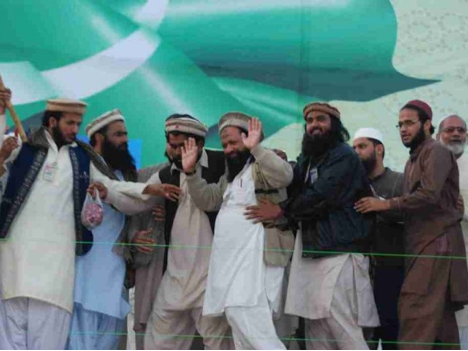 Now Malik Ishaq has been killed by the same Punjab police which had been providing him VIP security and shooting training. He has been killed just like his predecessors like Naq Nawaz Jhangvi, Isar ul Haq Qasimi, Mullah Farooqi, Azam Tariq, and Riaz Basra. The present chief of the ASWJ Mullah Ahmed Ludhianvi will also be disposed of in the same violent manner once he has been used just like Malik Ishaq.
Malik Ishaq's killing raises some serious questions. He was a murderer of scores of innocent people. Even then, he had his human rights. He has been killed illegally. He should have been prosecuted in a court of law and punished in accordance with the law. If a court in Pakistan does not or cannot give justice, it is because the state of Pakistan is against the idea of making justice available to the people. Justice would mean the ruling elites of Pakistan led by the Army generals will lose power. The Army will not let that happen.
The second question is: why must Malik Ishaq be killed and his backers and financiers live as respectable leaders of Pakistan? In what way are the likes of the Sharif Brothers and Rana Sanaullah innocent, and Malik Ishaq was not? Why can no one prosecute Pakistan's right wing journalists, and judges who call for the assassination of innocent Pakistanis? The Geo/Jang channel has been calling for the assassinations of Governor Taseer and Ahmadi Muslims, but no one has raised a finger over it. Why not? Why will Najam Sethi give Mullah Ludhianvi an opportunity to justify Shia killing and still remain Pakistan's respectable journalist? Why has no one said a word about Malik Ishaq's Saudi backers?
http://www.reuters.com/article/2012/10/24/us-pakistan-militants-idUSBRE89N00W20121024
http://www.theguardian.com/world/2010/dec/05/wikileaks-cables-saudi-terrorist-funding
I have never written a single word about Malik Ishaq because he was a mercenary. He could have killed his fellow Deobandis if his patrons had asked him to. He was a mercenary just like the Pakistani generals who can kill anyone for money be they Sunni Palestinians in Jordan, or Shia Arabs in Bahrain and Yemen.
Now the liberal mafia of Pakistan will triumphantly claim that since Malik Ishaq has been killed, Shia genocide has disappeared: Now no one should blame the Sharif Brothers for their complicity in the Shia genocide. But the reality is that Saudi Arabia and the Pakistan Army have created a Malik Ishaq on every street in Pakistan. If someone has to be eliminated, it is not the likes of Malik Ishaq, but those who finance him in the name of a Takfiri ideology which finds its expression in the likes of the Taliban, the ASWJ, the al-Qaeda, and Daish.