SOS from Pakistan: Influential pro-Taliban Deobandi hate cleric threatens rights activists and bloggers
Voice of Sunnis (VoS), a popular Pakistani blogzine known for bold opposition to Taliban and ISIS-affiliate terrorist group ASWJ, condemns bullying, threatening and harassing of Sunni Sufi and Shia bloggers by the pro-Taliban Deoband cleric Tahir Ashrafi.
Tahir Ashrafi is infamous for hate speech against Ahmadis, Sunni Sufis, Barelvis and Shias routinely threatens rights activists and bloggers who call him out on social media.
There are some examples: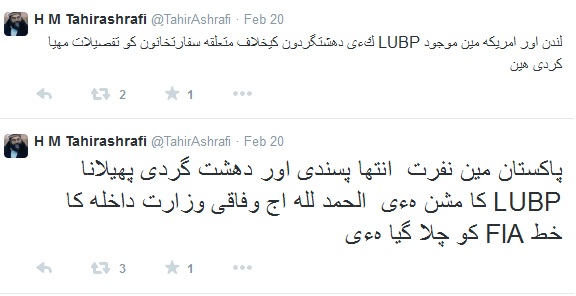 The majority of these threats are issued against Sunni Sufi, Ahmadis and Shias. In particualr, LUBP (Let Us Build Pakistan), an alternative liebral web site and its contributors are being harassed by Tahir Ashrafi. Only two years, ago, LUBP blogger, Irfan Khudi Ali was killed by Deobandi ASWJ terrorists in Quetta.
In Pakistan, thousands of Sunni Sufis, Shias, Ahmadis and Christians have been target killed and their murder publicly owned by Tahir Ashrafi's friends from the ISIS affiliated Deobandi terrorist group ASWJ-LeJ. The most recent wave of ASWJ-LeJ's attacks followed from Tahir Ashrafi's negotiations with the security establishment to release his friend Malik Ishaq, the founder-chairman of Lashkr-e-Jhangvi (LeJ) and the Vice President of ASWJ. The Alamdar Road attack in which LUBP blogger Irfan Kudhi Ali died, along with scores of other attacks by ASWJ-LeJ was a direct consequence of the release of ASWJ-LeJ leader Malik Ishaq that was engineered by Tahir Ashrafi.
This Deobandi cleric Tahir Ashrafi is on record for threatening Pakistan's minority rights minister and prominent Christian leader, Shahbaz Bhatti just days before his tragic assassination at the hands of the Deobandi ASWJ terrorists.
After the gruesome murder of Bangladeshi blogger Avijit Roy by thugs similar in mindset to this Deobandi mullah, we are stating on record that if anything happens to any of our bloggers, we will hold Tahir Ashrafi and all those who promote him as a "progressive cleric" responsible.