Shia genocide: 60 killed, 50 injured in Shikarpur imambargah blast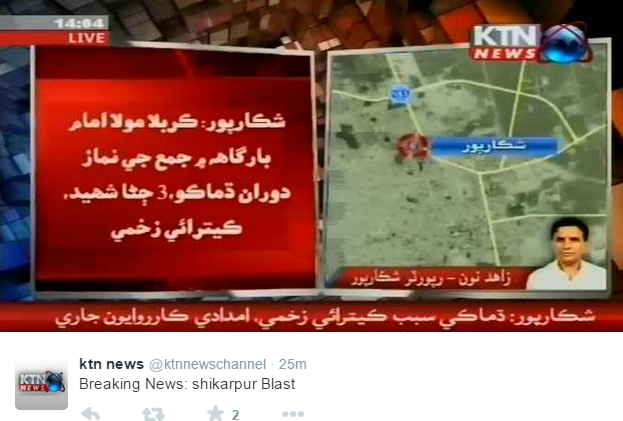 Karachi (30 January 2015): At least sixty Shia Muslims were killed and 50 others were injured in an explosion in Shikarpur (Sindh) on Friday. As per initial reports, the blast occurred during Friday prayers at a Shia mosque (imambargah) in Lakhi Dar area.
The reports suggest that a suicide bomber entered the mosque during the Friday prayers. In the past, banned Deobandi terrorist outfit (Sipah-e-Sahaba Pakistan aka ASWJ) has been involved in suicide attacks on Shia, Sunni Sufi and Barelvi Muslims. ASWJ works as a front for the Taliban (TTP), Ahrar, Jundallah and Lashkar-e-Jhangvi (LeJ) and provides resources and intelligence to Deoabndi takfiri khawarij.
Only a few weeks ago, Deobandi clerics Ahmed Ludhyanvi and Aurangzeb Farooqi had visited various parts of Sindh province to radicalize Deobandi madrassa students against peaceful Sunni Sufi and Shia Muslims and Hindus. Aurangzeb Farooqi, head of ASWJ, made a hateful, violence inciting speech against Shia Muslims in a Deobandi madrassa in Khaipur, i.e., CM Sindh Qaim Ali Shah's very constituency.
http://www.dailymotion.com/video/x1hvmi3_allama-ghazi-aurangzeb-farooqi-jamia-haidriya-khairpur-sindh_auto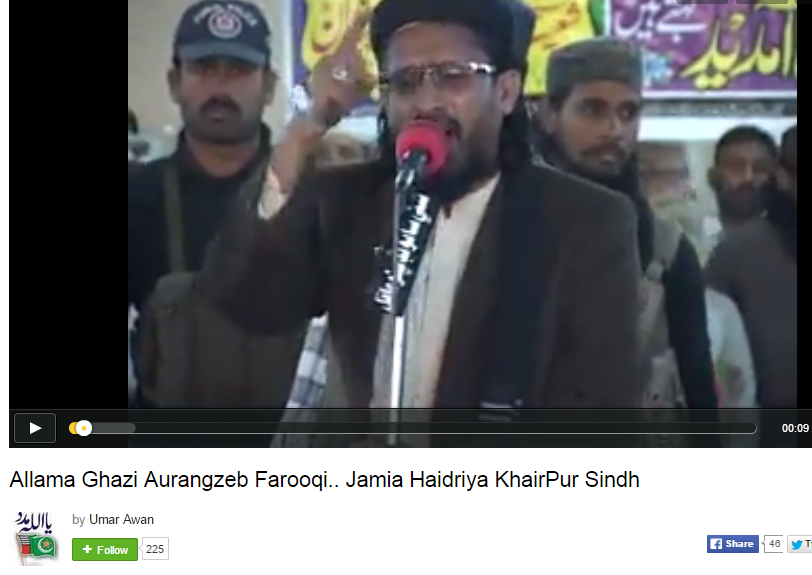 The Shikarpur massacre is the second major attack on a Shia mosque and imambargah in the country since the beginning of 2015; the first being an attack on Rawalpindi's Imambargah Aun Mohammad Rizvi in the garrison city's Chatian Hatian area in which 10 Shia Muslims were massacred by Deobandi terrorists.
It is not the first time that Shia Muslims have been target killed by Deobandi ASWJ terrorists in Shikarpur. In November 2014, a Shia scholar Allama Shafqat Abbas Mutahhari was target killed at Indus Highway near Khanpur city of Shikarpur district. Previosuly ASWJ terrorists had made an abortive attempt by sending suicide bombers to hit well-known influential Shia politician Dr Ibrahim Jatoi of Shikarpur district. He survived the attack but his political workers were martyred. Before that, a noted Shia scholar of the district Mr. Maikho was also target killed in the same district. In January 2013, Deobandi ASWJ terrorists had attacked a Sunni Sufi shrine Dargah Ghazi Shah killing 4 Sunni Sufis and Barelvis.
One may ask Sindh CM Qaim Ali Shah and PPP Chairman Bilawal Bhutto Zardari: What is stopping Sindh govt to arrest Aurangzeb Farooqi, head of ASWJ terrorists who killed 13 Shias in Shikarpur today?
One may also ask Pakistan army and its various agencies: While you are busy in hounding MQM, takfiri ASWJ terrorists continue to massacre Shias and Sunni Sufis/Barelvis. Why can't you arrest or target kill Aurangzeb Farooqi, the mastermind of Shia genocide and Sunni Sufi genocide in Sindh?
 Source: